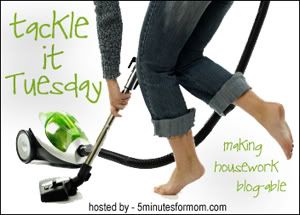 We have been in our home for 16 years come Thanksgiving. We built it new and as you all know, even a new home needs repair and redo's.
Over the years we have finished the originally unfinished basement into a family room , Bath, Bed room and a laundry room.
All this to say that the process seems neverending.
We are in the process of touching up the kitchen cabinets with a little varnish to spruce them up some.
My daughter and I took of the handles and pulls, cleaned them up really good, then did some light sanding.
Then we finally painted them...I held my breath because my husband was out of town and I am scared to death of doing a job like this with him in the room....much less out of town.
We did about half of them and I think they look fine....Better anyway. I am anxious for my husband to come home and tell me what he thinks.
So there you have it.
I tackled it on Saturday...but I decided I would share it on Tuesday...lol
I will get my pic abilities set up so I can share better and make this more exciting.